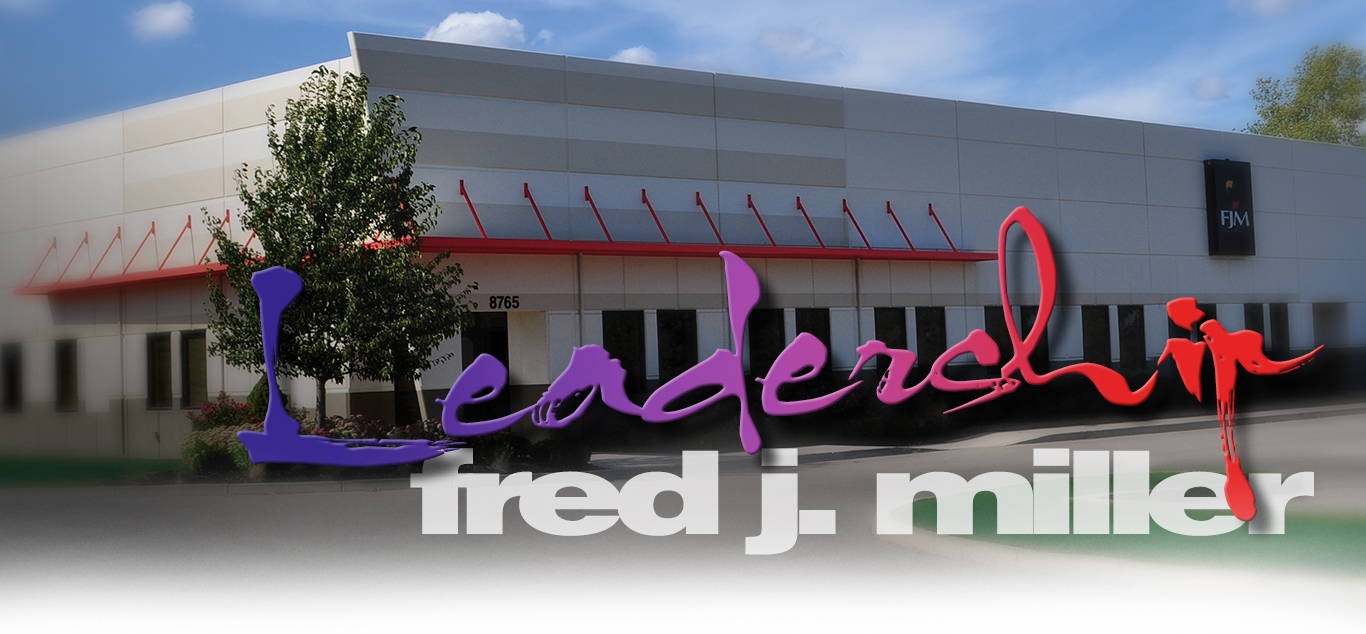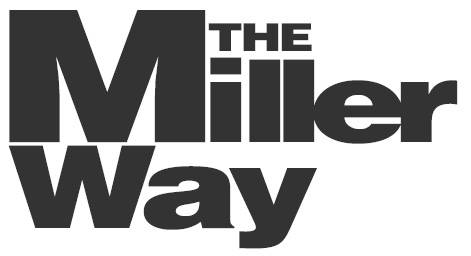 FJM is really the monogram of our founder, Fred J. Miller, a man of boundless imagination and energy. Since his passing, we continue to strive to be true to his high standards and expectations. We have included a brief memento of the man, and the history of our company.
He moves comfortably in a crowd. It's the sign of a lifelong diplomat. And on a summer's day he makes his way through the audience like the "Mayor of Pageantry." with a handshake here, a kind word there, a salute of recognition across the field. He's on his way to hand out trophies, but he's ready to share some time on the front sideline, where he seems most at ease.
"I've been in this activity for so many years it seems like all my life." He confides, "And what a life it has been! Early on, I wanted to audition for Drum Major in High School. But back then, in 1947, you were expected to twirl baton! So at the age of 15, I started taking lessons with Bob Dawson, the University of Dayton's drum major. In a little over a year, it all seemed to come naturally, and I loved the challenge. Whenever I'd go to a competition to see or learn a new trick, I realized that I could perform it almost immediately. When young twirlers started to call for help, I began to teach twirling even though I was still in high school. I'll never forget my very first student, Mary Jo Holl, who would go on to win Grand Nationals in 1963."
A trained musician and teacher, Fred began to develop total band shows, including brass, woodwinds, percussion, drill, colorguard, and twirlers, as the best way to reach even more students. He directed the bands for the Fairborn City Schools from 1957 to 1968, eventually serving as Music Supervisor. But he also used his theatrical skills to bring a little bit of Broadway to his student casts by directing ten of the most popular Musicals of that time.
The United States Twirling Association, Inc was founded in 1957 by Fred and a group of twirling teachers in the Midwest where he served as the first President, filling many different roles over time.
"In May of 1959, the best thing in my life happened. I married my wonderful wife and best friend, Marlene Sedgeley from Auburn, Maine." His yellowed wallet photo shows what looks like a cheerleader and a football player, but in reality they were both twirlers on a mission, establishing Camps and Clinics. In fact, "…no other twirling teacher or strutting teacher has ever produced as many Grand National Twirling and Strutting Champions as myself and Marlene," he says with a hint of pride. In the early years, the Blackhawks were made up of baton twirlers, flags, rifles, drums, and brass instruments. Miller's Blackhawks Twirling Corps established a record that is unequalled in the twirling world by winning the National Championship every year from 1956 through 1968. The Junior Corps went on to win 18 titles in 21 years.
The Blackhawks would later become one of the first World Class Colorguards in Winter Guard International, competing for some ten years in the upper echelons.The Blackhawks decades flew by, Fred admits, mentioning a tragic fire, Macy's Parade appearances, trips to Spain, and most importantly, the births of his three children. In 2008, when USTA celebrated its 50th Anniversary, 25 of his beloved Blackhawks alumnae gathered to perform "one more time" in Daytona Beach, to the kind of standing ovation that followed the group through its history.
Legend says Napoleon padded his army's shoulders with batting to make them more intimidating, and then sewed buttons on the cuffs to prevent them from blowing their noses there.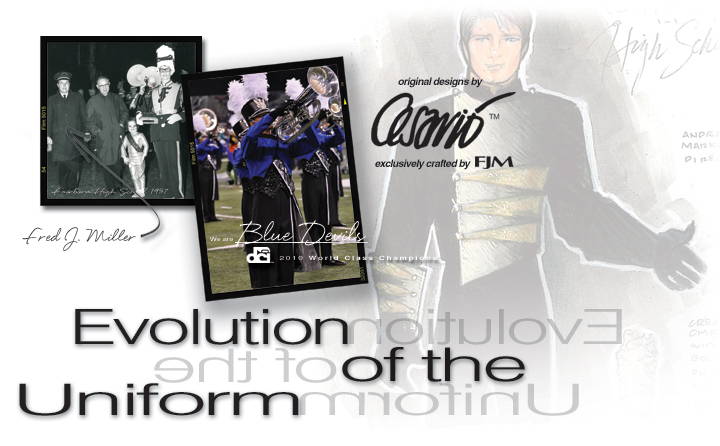 Even military bands, invented for morale on the battlefield, wore outfits with features similar to the military uniforms of their time: box-shaped, heavy wool, weighty interfacings, horsehair canvas, and flimsy linings which twisted and torqued. Pinched collars contained sharp edges and large metal hooks. Buttons either were sewn-on or pierced the fabric with rusting rings and washers. Suspendered trousers had lumpy zippers at the waist. Heavily-ornamented Civil War and Circus Band Uniforms were hot, heavy, badly ventilated, and uncomfortable, fitting the clothes hanger and musician alike, with an emphasis on maintaining a rigid and unforgiving shape. Amazingly, after WWII, these old-fashioned suits remained largely stagnant; inflexible patterns copied with no consideration for wearer comfort or easy care, even as the style and number of America's Bands and Drum and Bugle Corps expanded.
Unfortunately, most attempts at a new type of suit ended as stripped-down versions or ill-fitting blouses with elastic waists. Shapeless "unstructured wash-and-wear" became dead-on-arrival fad; an unwanted stepchild of an industry disinclined toward change or experimentation.
But here's the next chapter. The revolutionary "Cesario™" uniform, exclusively from FJM, became the industry innovator by defying all categorization. Striking good looks and expert craftsmanship combined to make a durable uniform that moves as modern bands do.
And you can put that in your washer and dryer.
Starting in 1983, a completely new uniform began to take shape. Revolutionary in materials, design, and construction, it took nothing for granted, and literally started from a "blank page." Tested by The Cavaliers Drum and Bugle Corps and the Phantom Regiment those first years, the new uniforms took incredible punishment. With sweltering sixty-day bus-and-truck tours across the US, they were "ridden hard and put away wet," literally. Word leaked out that a Broadway Costume Designer from "inside" the pageantry had actually invented a whole new way to build uniforms that would be strong, washable, and still look great on TV. Finally, FJM, Inc., announced this innovation publicly, and put it into national production, becoming "The Company That Changed Everything™"
Today, the standard-setting "Cesario™" uniform is worn by more Bands of America and Drum Corps International semi-finalists and finalists than all the other companies combined. It has become the preference of forward-looking University Bands as well, making FJM the fastest growing band uniform manufacturer in America. The trademark fit and finish is built directly into the tailored uniform itself, utilizing a proprietary combination of textile architecture and patternmaking, combined with the latest Visa System 3 fabrics.
"Cesario™" designs are uniquely distinctive, able to convey the traditions and aspirations of each group, resisting any labels, and actually creating a visual brand for the contemporary band.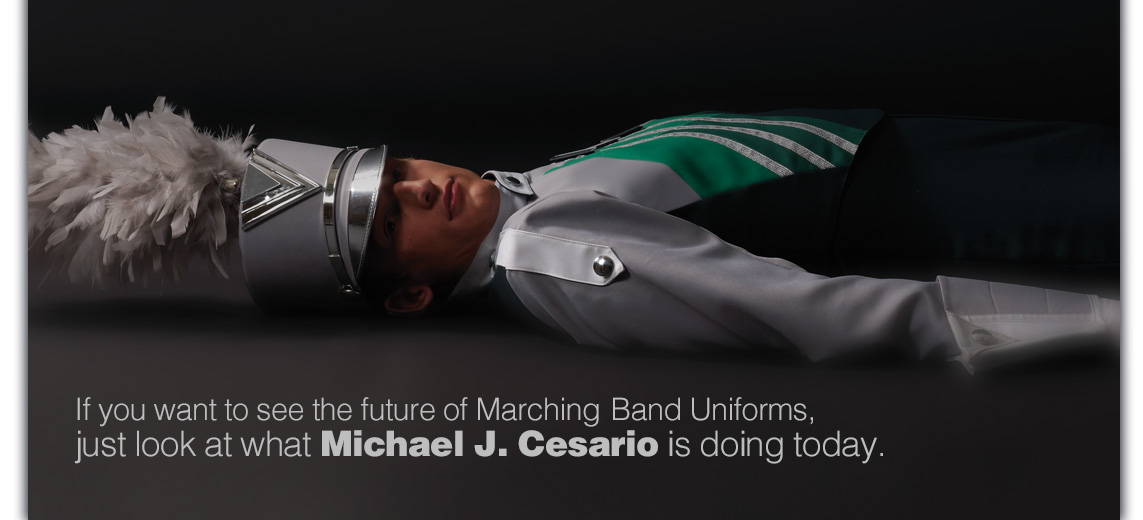 Character, Integrity, and Hot Sauce.
You've got to capture the very soul of your group and bring it to life!
From concert stage to parade route, from half-time show to the competitive field, "Uniforms Make the Brand."

The stature and clarity of your uniform design is a declaration of your group's character and excellence, creating a look, an image, a brand unique to you. While most bands tend to reflect the colors and traditions of the school or organization they represent, a great designer can find new ways to be innovative in spirit while reverential in tone. We need to be aware of what the band has worn previously, and what mascot or title the band may carry. But, teamed with the Designer, you can still project an image that contains the elements of modern national-caliber standards, conveys your individual style, and allows the members to look and feel strong, confident and contemporary. To bring the true character of the band to life within the uniform, it is essential to imagine a complete design process, as intricate as musical composition. Instead of examining each note by itself, we must "read the score" by looking at the big picture first.
The ideal mission of a uniform is to, in fact, make everyone look uniform.
Visibility. The uniform should look handsome, of course, but it must also relate to the others around it in a manner that melds the individuals into a striking whole. We've got to work together to ensure that we can see clarity and direction as a unit, making a complete whole. Remember, if you can't see it from 50 feet, you can't see it! Leave the detailed viewing for how well it's constructed…then go ahead and get a microscope!
Identity. The heart of your group needs to be evident from the first viewing by an audience, and the first wearing by the performer. The ability to communicate your distinctive personality and spirit needs to find its way into your uniform. The traditions of your band should be honored, of course, but elevated and enriched. Be sure to edit the accumulation of old details that distract the eye and hurt your visual impact. We've got to know who we're watching, and see your signature, but with a bit of visual hot sauce thrown in for zest!
Practicality. Today's bands perform to rigorous standards that require durable, athletically-engineered performance wear to match the demands of modern programs. Accurate patterns, versatile fabrics, and new construction methods are the hallmarks of FJM/Cesario™ uniforms. Comfortable and flexible, they are specifically designed and intended to launder without fading or discoloration, avoiding the expense and environmental problems of chemical dry cleaning.
If it doesn't say Cesario™, it's not a Cesario™. Only the original has the signature on every FJM label. Our inspiration, experience, and game-changing vision reveal a unique dedication to our friends and clients, their bands and their brands.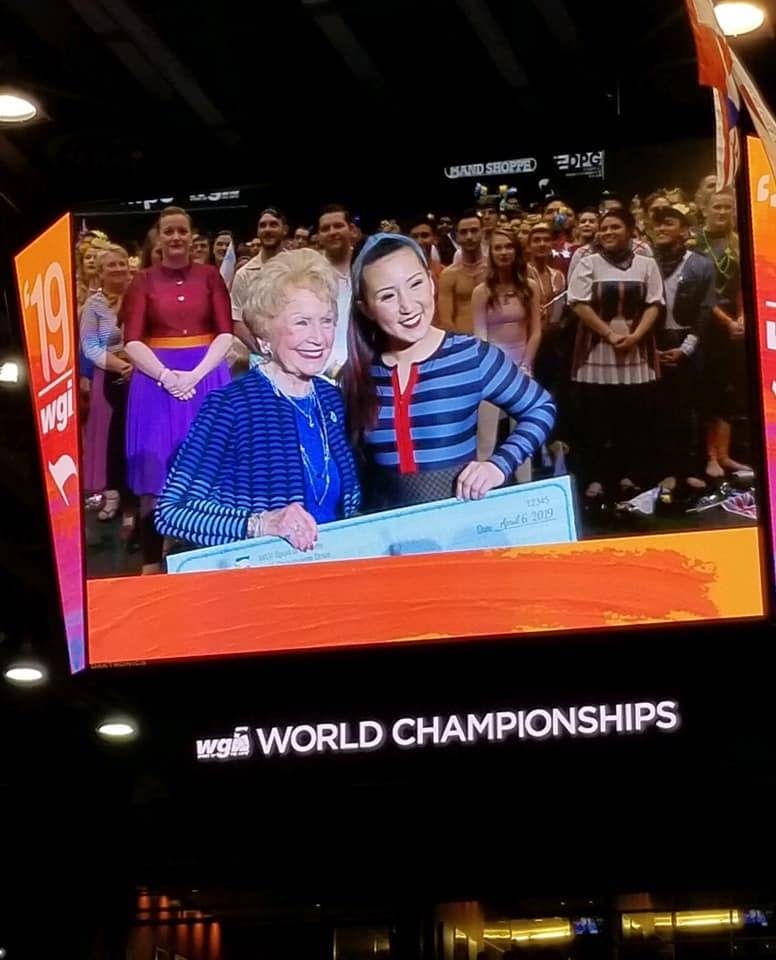 Here at FJM, we have always felt very fortunate to be in the position to give back to the pageantry community. FJM is a Corporate Partner of Drum Corps International and Winter Guard International as well as the Official Uniform Sponsor of Music for All/Bands of America. We also provide Fred J. Miller Memorial College Scholarship grants for students in the amount of $2,000.00 to all three organizations each year.
Over the years, FJM Summer Clinics has provided over $100,000.00 in scholarships for students, and continues to help educational dreams come true today.
Knowing the difficulty of fielding competitive independent groups, FJM has always provided benefits to our DCI and WGI groups. Ranging from complete sponsorships to "at cost" or deeply discounted pricing. FJM gives back to these groups so they can keep providing a place for the young people of our activity to continue to perform and learn important life lessons for the future.
At FJM, we also use our vast experience and knowledge of the pageantry activity to provide guidance and feedback to all of our clients. We truly feel that we are a part of your program, and we are always here to assist you in any way possible.
There is a Difference in What We Do.
The Difference is Personal.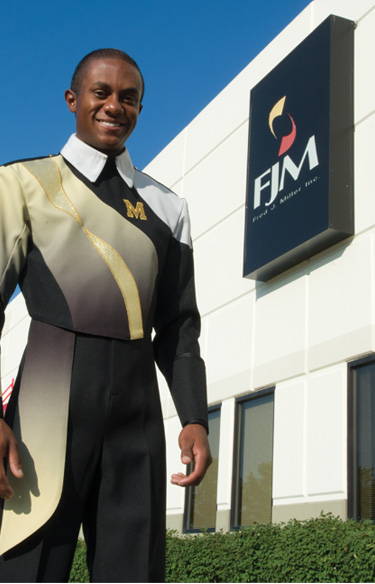 Deeply ingrained in the very fabric of modern pageantry, the FJM family stands as an involved, active, and creative member of the pageantry community, with strong ties and relationships. With over 55 years of Colorguard, Dance Team, Drum Major, and Band Leadership Clinics, and a team of Winter Guard International, Bands of America, and Drum Corps International Hall of Fame honorees, the very character of FJM has been forged by "leading through serving". To inspire students to grow and thrive, we are honored to sponsor and support pageantry activities, especially scholarships.
You've been telling our family for years that our service, our designs, our clinics, and our products make FJM something different, something special. In fact, our advertising slogan might be the first ever written by the customers themselves! We've become the recognized leader in the pageantry arts because of your loyalty, and your belief in the innovations and creativity we bring to every project, big or small. We know you have a choice, and we aim to earn your continued trust and goodwill with every new idea, every new design, and every new product we bring to you and your group. With so many companies trying look-alike, sound-alike strategies to gain your business, we're grateful that you know us and trust us to deliver that smarter, better, FJM "difference" in everything we do.